INSPIRED project and in partnership with ILO, WEAB have attended a five-day training programme on " Entrepreneurship Development & Business Management", "Start Your Business", developed by ILO which is specifically organized for those entrepreneurs who have recently established their businesses or those who would want to establish their own businesses. This five-day training programme scheduled from Saturday, 23rd to Wednesday, 27th July 2016. The training programme will take place at the premises of Bangladesh bank Training Academy (BBTA), in Mirpur.
WEAB Executive and General Body members gathered in a meeting to celebrate after Eid festive.
WEAB arranged a press conference at Sheuti to disclose the demand of Women entrepreneurs in the upcoming budget FY-2016 on May 28, 2016
WEAB arranged on April 10, 2016 a 3-days fair for Boishakhi mela at Sheuti with a vision to promote products of SME women Entrepreneur and from very rural zilla and upazilla lots of entrepreneurs came and did a profitable business.
Women Entrepreneur Association of Bangladesh (WEAB) demands Realistic National Budget (2012-2013)
On June 19, 2012, the women entrepreneur Association of Bangladesh (WEAB) held a meeting to discuss on National Budget (2012-13) in Kawran Bazar (Dhaka). This meeting was presided over by the President of WEAB, Mrs. Nasreen Awal Mintoo who reviewed the National Budget (2012-2013) presented in the national Parliament. She has praised the Honorable Finance Minister for allocation of Tk. 100 crore to women entrepreneur and homeless women but demanded of equitable distribution of funds for the Welfare of Women Communities irrespective of their classes. According to WEAB, most of the Women Entrepreneur at the grass root fails to comply with the traditional rules and regulations of Ministry of Commerce, and facing access problems either to business Chambers or Association.
Skill Development Training
Training Information
Training on Beautification and Beauty Parlour Management held on 18-22 December 2016 at Joypurhat.
Training on Beautification and Beauty Parlor Management held on 29 December 2016-02 January 2017 at Cox's Bazar.
Training on Jute Diversify Products Making held on 18-22 January 2017 at Rangpur.
Training on Nakshikantha held on 13-17 February 2017 at Jamalpur.
Training on Block-Batik held on 25-29 March 2017 at Commilla.
Training on Block-Batik held on 09-13 April 2017 at Habiganj.
Training on Fast Food held on 21-25 May 2017 at Khagrachari.
Training on Cutting (Tailoring) Master from 6-10 December 2016- Dhaka
Training on Nakshikantha from 27-31 December 2015, Jamalpur
Training on Beautification from 20-24 January 2016-Dhaka
Training on Block-Batik from 26-30 January 2016- Joypurhat
Training on Wooden Decoration Pieces Making from 29 February-04 March 2016, Bandarban
Training on Nakshikantha from30 March-03 April 2016, Chapainawabganj
Training on Jute Products Making from 24-28 April 2016
Training on Online Marketing and Outsourcing Management from 3-7 June 2016
15th Annual General Meeting - 2015 of Women Entrepreneur Association of Bangladesh (WEAB) was held on February 27, 2015 at 10.30 am in Sheuti Conference Room, 67, Kalabagan, Mirpur Road, Dhaka-1205.
November, 2013: Training on "New Business Creation" at Sheuti Training Centre.30 participants were present at the training session.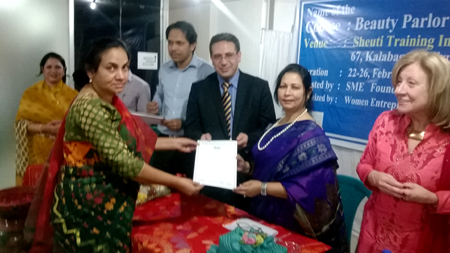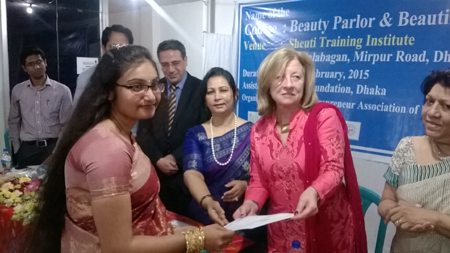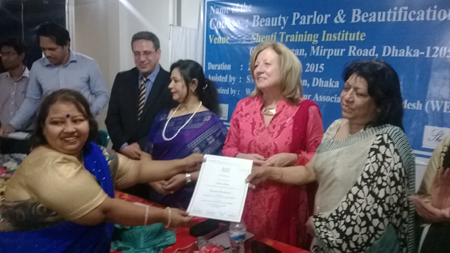 Beauty Parlor & Beautification Training
Duration: February 22-26, 2015
Place: Sheuti Training Institute, 67, Kalabagan, Mirpur Road, Dhaka- 1205.
Number of Participants: 30 Women Entrepreneur.
Organized by: Women Entrepreneur Association of Bangladesh (WEAB)
Assisted by: SME Foundation, Dhaka.
Outcomes:
Participants become familiar about different inputs of beautification and how to grow and operate Beauty Parlor & Beautification Business.
Participants become acquainted basic 5 (five) items like Eye brow, Upper lip, Manicure, Pedicure, Facial.